The Night Mail Podcast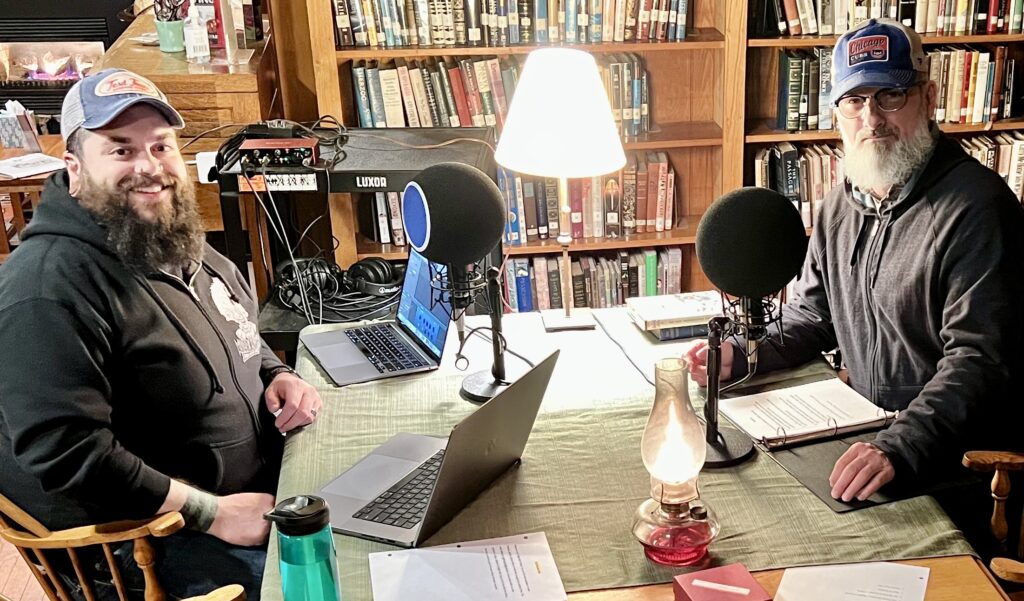 According to Yankee Dictionary: A Compendium of Useful and Entertaining Expressions Indigenous to New England, by Charles Haywood, "night mail" is the name "given to a New England through train that rattles across the countryside during the hours of darkness with its sleeping cars, mail, express, a smoker, and a coach with a few dozing lumberjacks and college boys traveling cheap, with perhaps a milk car or two on the head end."
In that same amiable spirit, we'd like to present The Night Mail Podcast from Felchville Village in Reading, Vermont, hosted by us, Gerry Marletta and Tony Pikramenos. We'll chat about this and that, discuss matters of local interest, and offer up simple amusements to pass the time.  You can find us on Apple Podcasts, Spotify, Amazon Music, and other podcast platforms. A new episode drops every couple of weeks. The town library website also has a link to episodes and information. The email address for the podcast is [email protected].  Or you can write us a note, postcard, or letter. Address it to Night Mail, then put it in the little free library that sits in the front yard of the town library. No stamp required.
From the Hosts
Tony Pikramenos – I wanted to include a note here about my role as the local librarian, a position I've held since 2001. There's a saying in Libraryland: Unless you have at least one book on the shelves that will offend whoever walks in the door (including your trustees and yourself) you're not doing your job right. I'm a firm believer in viewpoint diversity, and have purchased numerous books over the years that contain ideas I disagree with. I mention this because although I will be candid in my opinions on various topics during episodes of The Night Mail Podcast, as the town librarian I remain committed to serving all members of the community equally, regardless of any differences we may have about a particular issue. I hope the podcast, too, will be a forum where differences of opinion are encouraged, and are explored passionately but productively.
Gerry Marletta – Some of you may know me as Gennaro, Gennaro Marletta, or even Gennaro Marletta III. Don't be fooled by imitations; trust the original. As an individual holding a variety of titles & positions with the Reading Recreation Commission/Monkey Pudding Face/Wake Up Saying Nothing/Union Square Consulting/Resonator Consulting, the views and opinions expressed in this podcast are not representative of those organizations. Some of the things you may hear or see within this podcast, if you have that kind of super-sense for a strictly audio-only medium, will be "hot takes." Other things will manage to offend 0% of our audience. Have fun with this, as that's what I'm going to do.